Investing in mental health within your company goes beyond complying with obligations. This investment also improves productivity. With all the money spent on mental health programs, there is a high return on investment through better performance and reduced sick leave. Prioritizing mental health care also leads to increased talent retention.
In this article, we will give you some ideas and tips that you can implement in your company to correctly address issues that have to do with the mental health of your employees. Likewise, we will let you know the enormous importance of this aspect within a company.

What is mental health at work?
How does this affect employees at work?
Can the mental health of a remote worker be negatively affected?
How to avoid labor conflicts that affect their mental health?
How to evaluate the psychology of employees?
What is the importance of prioritizing the mental health of my workers?
How to take care of the mental health of workers?
How can we help you obtain more information about mental health in a company?
1. What is mental health at work?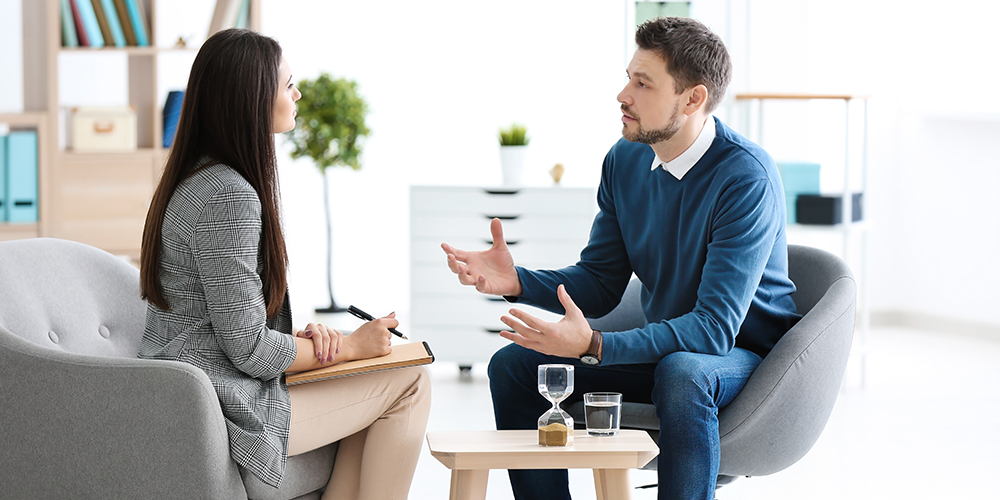 Often, when people think of health in the workplace, only physical health comes to mind. Risk prevention, approved seats, eye breaks, among other things. And unfortunately, mental health becomes a great forgotten in the corporate environment.
Mental health is a state of well-being in which a person fulfills their abilities and is able to cope with the normal stresses of life, work productively and contribute to their community. Each workplace is a different world, as is each person.
Workers occupy a lot of time in the office. That can be good for our mental health or a real problem. Regardless of what we work on, the "office" is the place where our inner well-being can suffer and also where we have an opportunity to take care of ourselves and those who work alongside us.
2. How does this affect employees at work?
Poor mental health at work creates demotivation and lack of concentration. Consequently, workers are unable to control their thoughts and emotions. The biggest problem with this is the lack of confidence your staff may face.
When we are not well with ourselves, creativity or resilience take a backseat and end up becoming a real challenge for workers. This directly affects work performance. The mental health of the workers is their main work tool and is as important or more so for productivity than their talent or the material conditions they have to carry out their task.
From social anxiety to memory loss at work, poor mental health directly affects workers' daily lives and physical health. While you have poor mental health, you could feel exhausted. Sometimes you do not feel at your best emotionally. Therefore, this makes it hard to communicate correctly, and this can lead to misunderstandings or overreacting to the contributions of coworkers.
A lack of control over impulses or harmful thoughts. All of this can lead workers to make poor decisions such as canceling meetings, being late, abandoning commitments and even non-compliance with the organization's policies.
3. Can the mental health of a remote worker be negatively affected?
Undoubtedly, yes. This occurs when people work related to technology giving rise to situations that can be detrimental to mental health. It may happen that having little knowledge about certain technological tools makes people feel frustrated.
The best way to detect technostress is through social networks or due to the overload of work tasks that are developed through digital tools. People who suffer from technostress have discomfort and anxiety in the face of excess information.
To avoid this, it is essential to optimize internal communication and that workers are aware of the latest news. It is also very important to bet on training programs when introducing platforms, tools or practices closely related to technology.
Overexposure to these new platforms can be detrimental. Most of the time spent by remote workers is with programs that monitor them to verify the productivity of their work. This can cause an invasion thought that prevents the worker from disconnecting.
4. How to avoid labor conflicts that affect their mental health?
From having dissimilar points of view to overcrowding or workplace harassment, labor fights directly disturb mental health at work. There are many types of workplace disputes and these can lead to toxic company culture. It is a serious problem that could even have legal repercussions, therefore it must be given the attention it deserves.
When someone does not feel comfortable with the company's work environment, they tend to become demotivated and less focused. People who are involved in work conflicts can seem anxious and restless, they lose confidence in themselves and their colleagues. Another sign that there are labor conflicts among your workers is high staff turnover.
Having professional knowledge is essential, but when hiring staff, it is essential to pay great attention to soft skills. You must periodically analyze the work environment of the organization and establish team dynamics that encourage collaborative work.
If at work or in the office you are lucky enough to surround yourself with fairly nice, pleasant, people, who also respect you, and bring out your qualities, you can be calm: your work is not going to seriously damage your mental health or, at least, the good interpersonal relationships that it provides you will compensate for some labor factors that harm health.
5. How to evaluate the psychology of employees?
The first thing you should do if you want to learn how to manage mental health at work is to measure the emotional well-being of your workers. Only then can you truly ensure their mental health and create healthy work environments.

As would happen if we were to make an assessment of physical risks, knowing how to identify those factors that can affect the mental health of workers is part of the job of any leader. In this way, the first step to achieving the emotional well-being of workers is to know their situation and how certain working conditions are affecting them emotionally.
Given this, we must differentiate between two types of assessment of the mental health of workers:
Objective assessment: Which consists of collecting quantitative information such as workload, fatigue, schedules, salary, education and training, etc.
Subjective assessment: Where information is collected qualitatively through the opinion or feedback of employees; regardless of the work environment.
Do not forget to measure employee experiences. Take advantage of meetings especially individual ones. This is to include questions about how employees feel in their job, if they are satisfied with the conditions, if they feel fulfilled, etc.
6. What is the importance of prioritizing the mental health of my workers?
It is easily understood that the better the workers do psychologically, the better the income statement of the company they work for.
Lost productivity related to depression and anxiety, cost the global economy an exponential amount of money each year. Many changes have to be implemented in this regard. However, sensitivity towards this paradigm is becoming more and more pervasive at different levels of corporate power.
Among these factors, there are some that have the worst impact on the mental health of workers. Hence, it is worth mentioning inefficient communication and management practices, limited participation in decision-making, long or inflexible working hours and lack of team cohesion.
We live in a very demanding environment where work takes on great importance, sometimes excessively. This means that a large part of our time is devoted to everything related to our profession. Where we fundamentally invest time and energy, two of our most valuable possessions.
7. How to take care of the mental health of workers?
Once you have measured mental health at work in the organization, the time has come to get down to work. In this sense, we have to differentiate between three types of interventions:
Primary Interventions: They are all those measures that seek to take care of the mental health of workers from prevention. You may not be able to eradicate all the psychosocial risks of some professions (for example those that require some night shifts), but with some measures you can alleviate their effects.
Secondary Interventions: This type of intervention is based on changing the way employees deal with psychosocial hazards. It is very important that the organization works to make employees aware of the importance of mental health at work. Only in this way will it be possible to eliminate the stigma and establish a perfect environment to maintain safe communication.
Tertiary Interventions: These already focus on the treatment of symptoms, and we could consider them a rehabilitation phase. Therefore, public or private health services often take care of this.
Pay attention to having adequate light, a moderately comfortable chair and a pleasant temperature, it is also important that you ensure that the conditions do not negatively influence your well-being.
8. How can we help you obtain more information about mental health in a company?
Companies are not alone in the challenge of taking care of the mental health of workers if they do not want to stop being competitive. We designed a well-being service for companies, created by a team of psychologists with the aim of helping companies to care for the psychological well-being of their employees at the center of their business culture.
For this reason, in PEO Middle East, we will always take care of all your company's problems whenever you need it. You do not have to worry about any aspect, since we cover countless areas, such as human resources management, how to manage a remote work team and we have exceptional recruiting skills.
Thanks to our contribution, HR managers can receive personalized and data-based advice on how to take care of the human capital they are in charge of, detecting and containing psychosocial risk factors that harm the company's work environment and psychological well-being of the employees.
Would you like more information about our services? Do not hesitate to contact us at the number +971 433 1 688 or write to us by email at [email protected] We will always be willing to help you. You will contact one of our agents who will kindly assist you to resolve all your concerns.
Do not hesitate and send your CV to thetalentpoint.com. You can also write to us at [email protected].