The digital revolution linked to information and communication technologies is a key factor for society as well as for organizations. That is why companies must create and implement strategies that allow management and protection of their data. Also, they can reduce the vulnerability and cybersecurity risks for remote teams through the strengthening of their security system.
In this article, you will find everything you need to know about the cybersecurity risk of remote working. It has increased significantly in the past two years because many companies switch to work from home as the new modality due to the COVID-19 pandemic.
What is cybersecurity?
Why is cybersecurity an important factor for remote teams?
Types of cybersecurity risks
How to protect your company from cyber threats?
What are the main cybersecurity challenges to face when working from home?
What improvements or measures should be implemented to minimize cybersecurity risks for remote teams?
Why is employee cybersecurity training necessary?
How to combat the cybersecurity risks of working from home?
1. What is cybersecurity?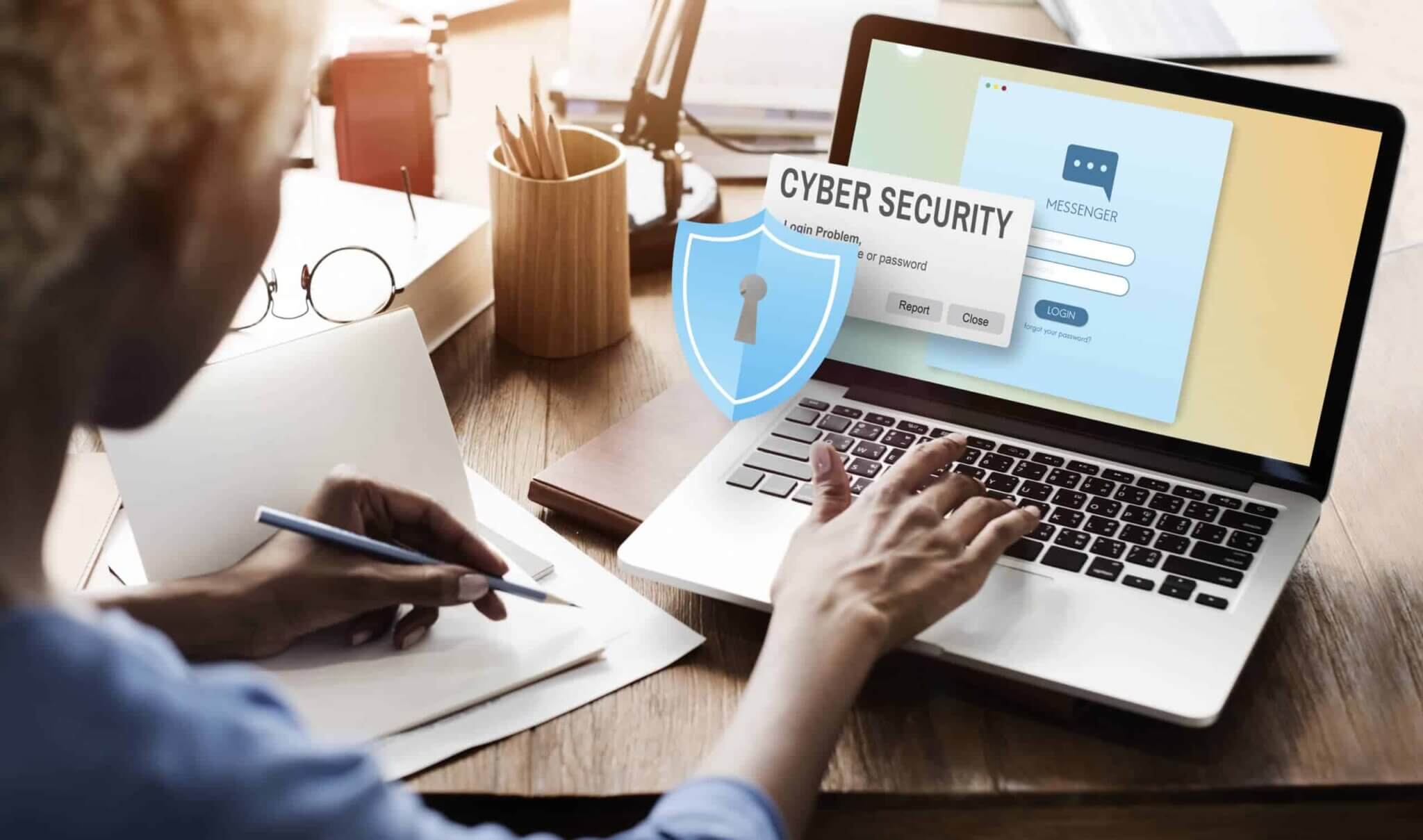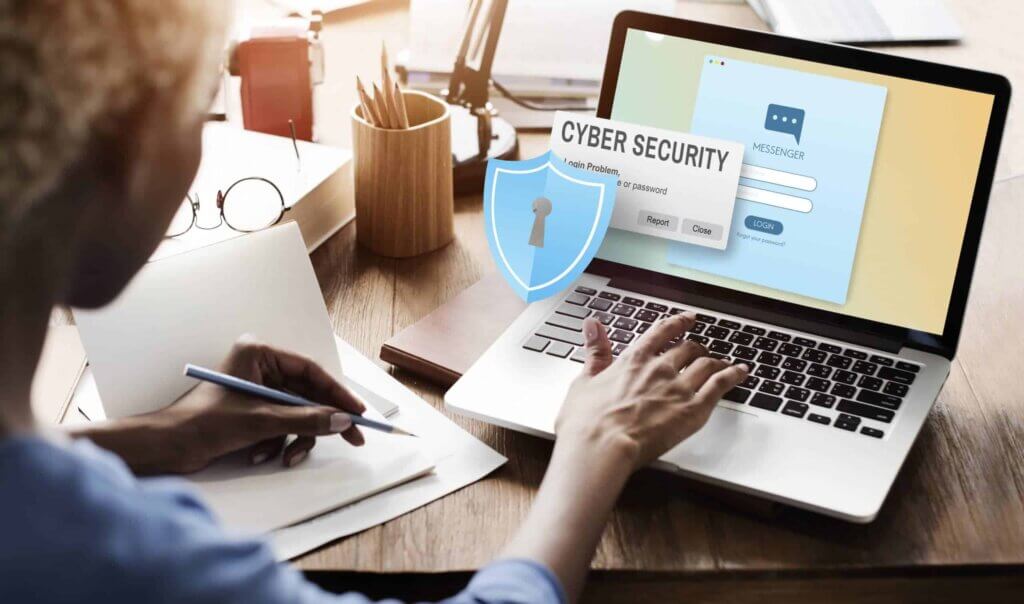 Cybersecurity is considered as all actions and procedures that are put into practice to protect the information of the company. It includes the created and processed data through computers, networks, digital and electronic systems, mobile devices, among others. 
By implementing cybersecurity for remote work teams, it is possible to reduce or avoid the existing different threats and risks. It is taking into account the vulnerability of the information sent and saved on any electronic device.

One of the main objectives of cybersecurity is providing trust and security among people involved such as customers, suppliers, and users. In fact, cybersecurity is a key factor and a current need in an increasingly hyper-connected world. So, information security must be guaranteed and protected from any cyberattack.
Additionally, it facilitates the fundamental procedures for safeguarding all the information. In this way, the data can be only obtained, managed, and manipulated by authorized personnel. Cybersecurity allows not only to protect your information but the organization itself and make it less vulnerable to risks.
2. Why is cybersecurity an important factor for remote teams?
In the recent past, many companies worldwide, in order to remain active, had to quickly switch to remote work. That change occurred after the COVID-19 pandemic, being digital technology key in terms of providing customer service. 
This situation increased the importance of cybersecurity since it not only guarantees the flow of work but the security of information. In addition, those employees must be aware and understand the risks involved in working from home.
Today, remote working is the new reality of many companies worldwide. However, there are many risks in terms of information security working from home. That is because employees increase the use of their personal devices exposing their information to vulnerabilities or cyberattacks.
Remote teams working from home are vital for business continuity but protection of information and cybersecurity are also extremely important. Workers must be aware of any threats because this can bring catastrophic consequences for both employers and employees.
Also, in case you need PEO services for recruiting the best remote staff, it will be an easier task if you contact us.
3. Types of cybersecurity risks
Once the COVID-19 pandemic started, a high percentage of employees carry out their work remotely from home. Unfortunately, many of these work teams are not always aware of the importance of cybersecurity working remotely. 
Working from home it is likely that the remote teams do not have a robust security system. So, they are not able to detect firewalls and hack attempts in their work networks faster.
In terms of cybersecurity, we can distinguish three types of risks: cybercrime, cyberterrorism, and cyberattacks. Cybercrime is a type of risk that basically considers economic benefits. Also, cybercrime takes into account the individual or personal interests of the person or group that corrupts the information systems. 
In the case of cyberterrorism, its main objective is generating terror in a particular community through damage to public systems. While in a cyberattack it directly affects the reputation of the business causing millionaire losses to the companies.
3.1 What are the risks of working remotely?
Working from home implies certain risks for companies that they could face when operating remotely. One of them is not having enough capacity to support many simultaneous network connections to their servers.
There is also the risk that the employees are accessing unauthorized resources. Another case is authentication failure due to a lack of capacity to properly get access to the company servers.
Most companies have strict regulations regarding the application of information technologies based on security and software updates at endpoints. Therefore, it is recommended to develop procedures for the implementation of these updates in a progressive timely manner.
Another risk of telecommuting is being connected to Virtual Private Networks simultaneously congesting servers and impacting the flow of work.

3.2 The most frequent cybersecurity risks
The Phishing Scam is a type of cyberattack that puts the security of the organization at high risk. The purpose is to steal confidential information such as usernames, computer passwords, among others. In 2020, Verizon Company conducted a study on data breach investigations, which indicated 81% occurrence for using weak passwords.
Working remotely is more secure than working using a public Wi-Fi network. Under this condition, the cybersecurity risks for both the worker and the employer are high. Most of the time it is easier for hackers to steal confidential data and even identities when workers are connected to public networks. 
Another risk is the use of personal devices which generally do not have the necessary security settings to protect information. Therefore, users are more vulnerable and easy targets for hackers. Moreover, malicious Malware can infect their devices when the virus multiplies and spreads itself through emails, network routers, and pendrives.
Finally, one of the most frequent cases to steal information happens when sending unencrypted files through emails. Those emails can be easily intercepted by hackers taking advantage of the weakness in cybersecurity working remotely.
4. How do you protect your company from cyber threats?
The remote work modality, even though it is a known practice, has intensified in the last two years. Along with that, the cybersecurity risks for remote teams that work from home have increased as well. 
For protecting your company from cyber threats or attacks remote teams should take into account the following fundamental aspects:  
Keep the operating system and software updated frequently to ensure you have the latest security patches.
Use antivirus and keep this software updated to increase the level of reliability and protection of your system. 
Create and use strong and secure passwords in such a way that they are not easy to discover.
Beware of downloading and opening email attachments from dubious or unknown sources. Sometimes those files or links could be malicious malware or virus that infects the system once you open them.
Avoid using and connecting to unsecured public Wi-Fi networks.
5. What are the main cybersecurity challenges to face when working from home?
Telecommuting represents a new reality that has marked a great trend due to the impact caused by COVID-19. Many employees are now working from home mostly at their own risk. This modality involves many challenges for them since cybersecurity is one of the main risks to face while working remotely. 
Another challenge present when working remotely is having the minimum services, applications, and others like being in the office. That is necessary for mitigating cybersecurity risks since remote workers often use their devices for receiving and sending information.
Access to company information and its servers also indicates a limitation when working from home. So, the employer and the technology department must, through authentication, authorize and allow the connection and secure access of workers. When authorizing remote teams they can maintain their ability to respond and complete tasks on time.
Additionally, working from home often represents overtime impacting the compensation and benefits of the workers. In this case, you can ask for our payroll outsourcing service and everything regarding payments of workers and accounting procedures of remote teams will be covered by us.
6. What improvements or measures should be implemented to minimize cybersecurity risks for remote teams?
One of the measures to be implemented is to develop a plan for remote teams and the staff in general. That plan must contain the protocols on which remote workers come to know how to act in case of threats. This requires continuous training by the employer.
Cybersecurity training must not only be continuous and permanent but mandatory as part of the responsibilities as a remote employee. Training, whether online or face-to-face, should consider various aspects such as the ways in which data breach occurs. Similarly, how to avoid and protect our system from that is very important to look at.
In other words, all workers and remote teams must receive training in cybersecurity risks while working from home. So, every company must have an informative guide with all the strategies and protocols about cybersecurity, including how to make reports once system security problems happen. Feel free to request our services to fulfill your obligations as an employer according to the new labour law.
Making workers aware of both the risks and threats around cybersecurity will help them to notify the company immediately. By doing so, it will allow them to protect data and information and minimize repercussions and damages resulting from a cyberattack.
7. Why is employee cybersecurity training necessary?
All employees need cybersecurity training to protect the information of company against cyberattacks. Working remotely as the new scenario indicates to the organization that the training strategy should be taken to home as well.
It is evident that threats to company security increase with the number of employees working from home. This implies greater risks as an example due to the number of emails sent and received. In addition to the number of computers and electronic devices that they use for doing their tasks are also threats.
Training and continuous updates of remote teams help to create a human firewall between company information and security threats. For this reason employees require cybersecurity training and receive the procedures they have to follow when identifying threats. In this way cybersecurity will not be vulnerable while working remotely. 
In this context, training focused on cybersecurity helps remote teams to understand the risks they face when working from home. Afterwards they become responsible for the information of the organization and are aware of why data protection is essential. It is important to mention that remote teams are from the beginning part of the cybersecurity of the company.
8. How to combat the cybersecurity risks of working from home?
Every company is susceptible to any cyberattack, even more so in the current digital and COVID-19 age, where remote work from home has become a major trend in the business context. This condition means that your company experiences a greater number of threats, due to the increase in employees working from home.
At PEO Middle East, we have different services that will help in adapting your company to the new modality. Work remotely with the best professionals. With us, having your qualified workers working from home will be safe and reliable for your company.


Do you want to protect your business and do not know how? Send us an email to [email protected], for more information about our services, including hiring remote workers for a better experience in your company. Moreover, our HR management services are available as well.
Consider the possibility to work with us and submit your CV in thetalentpoint.com, you can also send it to [email protected].