HR managers fulfill many functions within their job. They are the ones who plan, coordinate and direct all the administrative functions of the companies. They are the connection between the employers and the employees of a company. Like any job, the work done by human resources has challenges.
In this article, we will expose the different challenges that HR managers face and their possible solutions. These are often not understood and make HR's work difficult. It is important to make substantial changes to overcome these obstacles.
What are the main challenges that HR managers face?
Where can HR managers face other challenges?
What can HR managers do to face these challenges?
Why is it important to overcome HR challenges?
What are the consequences of not facing the challenges of HR management?
What does our agency offer to help you with HR challenges in the UAE?
1. What are the main challenges that HR managers face?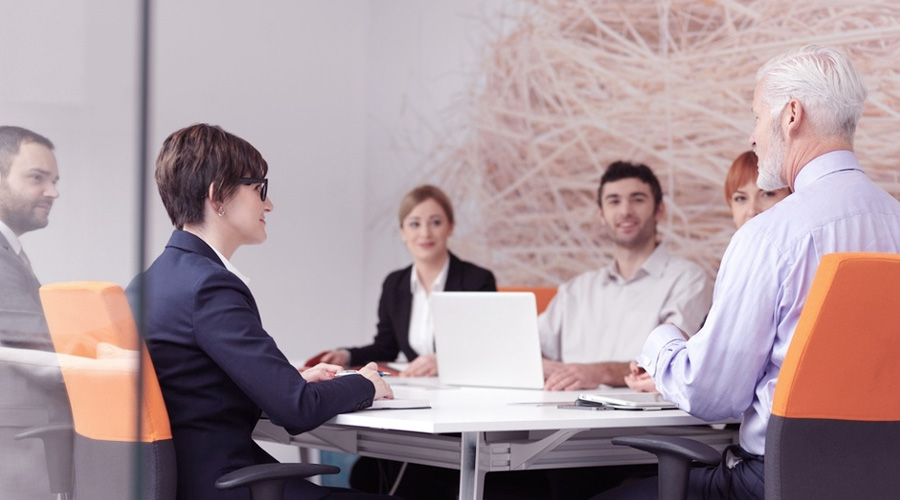 The challenges faced by HR managers can vary depending on the company. However, there are some common challenges that we list below.
1.1 Retaining employees
Maintaining a comfortable and happy work environment for employees is one of the most important aspects of a company's success. Making sure that employees stay interested in the job is one of the tasks of HR management.

This can be achieved through benefits and incentives, but it is often a task that puts too much pressure on the HR department. It is a major issue to improve employee productivity without compromising job satisfaction.
Training processes are human resources management tasks. HR managers must implement training programs and must ensure that employees know all company's policies.
1.2 Hire quality employees
The hiring process is led by HR managers. This process is important because it is not about hiring any candidate, but about selecting the most talented. Successful companies that stand out from the rest will attract featured employees. 
Therefore, one of the challenges is to promote the company's potential and creatively show to employees everything that the company can offer. It is also the task of HR to research competing companies to make yourself stand out compared to them.
1.3 Workplace security and economic issues
It is the responsibility of the administrative area of ​​the company to guarantee both personal and software security for employees and managers. In addition, many times, economic security is also under their account. HR management must create protection plans in cases of economic crisis and must manage the company's budget.
Security issues build employee confidence, and they are also necessary for legal reasons. An HR department that does not prioritize safety issues can receive strong legal repercussions.
1.4 Employer-employee relationship
A company must understand that employees are people with needs and feelings. As such, employees need to know that they are valued in the company beyond their professional lives.
A successful company cares about the emotions of its employees. Employers must treat all employees with respect and equality. It is part of the job of an HR manager to ensure a good relationship between employer and employee and resolve any differences that may arise.
This is particularly important when the company works with a diverse group of people. When working with people from different cultures, religions, or ethnicities, communication and emotional intelligence on the part of the employer is essential. The HR management has to be completely aware of this.
2. Where can HR managers face other challenges?
Some of the most common challenges in HR management were presented in the previous section. However, other challenges may present themselves on the job less frequently.
2.1 Leadership development
HR management is usually responsible for training employees and new managers in terms of leadership. This task is important because management is a fundamental pillar of a company, and future managers must know how to lead it.
It is part of the HR department's job to identify employees who can stand out as leaders. This will help the company to promote employees more easily, and to form a successful and reliable work team.
2.2 Quality service
A company can lose the quality of its services for many reasons. The company may not be able to offer the best service if there is a lack of staff or if the employees are overworked. The reputation and brand of a company usually rely on HR management.
Often, HR managers will feel pressured to ensure that all the conditions of the company are in place to guarantee good quality. For example, they must warn the company if there are not enough employees to carry out all the tasks. If so, they should recruit new and talented employees.

2.3 Communication
Many failures of a company are due to the lack of communication between bosses and managers or between bosses and employees. Your human resources department could face cultural and communication challenges. If the bosses do not communicate efficiently with the employees, they will have to resort to HR management, overloading them with more work.
2.4 Payroll errors
When payments and checks are written by hand, payroll errors are common. These errors are less common today because there is sophisticated software that performs these tasks instead of doing them manually.
However, no system is error-free. When this happens, the responsibility rests with HR management. This can be a major challenge. Constant mistakes with the checks make a company's morale questionable. Employees will lose confidence, and the quality of their job will decrease. Some organizations can help you with the economic issues with payroll outsourcing services.
3. What can HR managers do to face these challenges?
HR management challenges can be alleviated by following a series of tips and work plans. The possible solution will depend on the challenge in question. Each company can adopt a different way of solving problems, but there are some basic and necessary ways to handle HR challenges.
For example, if your HR department is having trouble retaining employees and keeping them interested in the job, you can follow the advice below.
3.1 Offering incentives
One of the ways to keep employees interested is to offer incentives. Incentives, also called benefits, are extra payments, beyond the salary that the employee receives. Offering benefits for a good job will keep employees doing good quality work. It will also make them feel appreciated by the company.
3.2 Being attentive to the needs of employees
It can be difficult to be attentive to the needs of all employees when it comes to a large company. However, employees often stay with companies where they feel appreciated. HR managers need to ensure that their employees feel recognized and receive feedback for their work.
Incentives, effective communication, and a record of each employee's work and productivity are some of the things HR management can do to be attentive.
3.3 Supporting the education
Employees stay interested in a company that helps them develop as professionals instead of pointing out their mistakes without teaching them how to improve. One way for HR managers to support employee education is through courses.
HR management can coordinate online or at work training. These are an opportunity for the employee to learn new things about the job and acquire skills to improve their work. Employees will also tend to leave the company if they stay in the same job for a long time. Learning opportunities help them know that they could be promoted shortly.
These tips are also helpful if your problem is finding successful and qualified candidates for an open job. If you want to attract the best candidates, make sure you offer a comfortable and friendly workspace. Make sure there is flexibility at work and that employees have opportunities to grow and be promoted.
Regarding safety issues, HR managers can control this problem by offering training on safety. HR management should also ensure that the company has first aid kits and all basic safety equipment. Also, HR management should also regularly test employees on security policies.
You can also work with a professional employment organization to delegate administrative responsibilities to them.
Some final tips that you can follow as an HR manager are:
Seek funding from other organizations.
Make sure you have sophisticated payroll software.
When a communication problem arises, make sure you listen to all points of view.
Teach cultural awareness.
Find creative solutions to problems.
4. Why is it important to overcome HR challenges?
At one time, it was believed that companies should concentrate only on their sales and their productive capacity. Today it is known that the success of a company is based on much more than these aspects. Communication, the workplace, funding, and the satisfaction of the employees are all decisive factors.
HR managers control all these factors. Therefore, it is clear that they constitute a fundamental pillar of any company. An HR team is no longer a luxury or something that only large companies can have. They are essential for the administrative functioning of any company.
HR management constitutes the fundamental connection between employers and employees. They are the ones who provide the company with the necessary tools to succeed. For this reason, any challenge that hinders the efficiency of this department must be solved.
The challenges that the human resources department faces will not only affect your company in the present. Your company will be harmed in the future if these challenges are not taken care of. A prepared team of HR managers will find solutions to the company's challenges that will last over time.
5. What are the consequences of not facing the challenges of HR management?
Once you know the benefits of having a prepared HR team, such as our team, that knows how to handle economic, legal, and administrative problems, it is important to emphasize the consequences of not facing the challenges.
Some of the consequences that a company can find if the HR department has deficiencies are the following:
The company may lose its quality.
Employees do not stay long at work.
Job positions without employees due to a lack of successful candidates.
Financial problems, such as late payments and mix-ups with checks.
Legal problems due to unsafe working conditions.
Internal failures due to lack of communication between employees and employers.
A not positive work culture.
Funding issues.
A bad reputation with your competition.
Employees lose trust in the company.
These consequences can impact your company in the short and long term. A poor HR team harms your image with other companies and, therefore, with future employees. A company with good sales and numbers will eventually fall apart if its administrative part fails.
6. What does our agency offer to help you with HR challenges in the UAE?
HR management is one of the fundamental pillars of a company. Like any job, this activity presents continuous challenges that must be faced to ensure the success of the company. When this department fails, the companys' functions are at risk. That is why it is important to know how to identify problems and how to solve them.
If you need help handling HR management problems in your company, contact PEO Middle East. Our organization helps you with your administrative responsibilities. We offer services of HR management, to help you with a specialized HR team. We also offer contractor hiring services in the UAE to facilitate the task of hiring new employees.


Would you like to know more about the HR challenges and how to solve them? If you do, feel free to contact us. Call us on +971529521175 if you want to know more. Also, If you are looking for a dedicated and responsible team of HR managers, you can write us at [email protected], and you will shortly receive an email from our representatives.
This is your opportunity to send your CV to thetalentpoint.com if you are looking for a job. You can also send it to [email protected] where it will not be stored. Start applying now!