Those who know how to organize a work team in a company have traveled more than half the way to success. To achieve the goals of your enterprise, strategic workforce planning must be efficient. Selection, environment, and objectives are the keys to achieving them in any company.
In this article, you will understand in detail how to organize a work team that is competent and effective, both for its assigned activity and for the overall project. In addition, key points and advice will be explained to create harmony in your team, both personal and effective at work.
What is strategic workforce planning?
How to create an adequate work team for your project?
How to make your teamwork harmonious?
What is the correct way to manage meetings?
What is the correct way to encourage your workers to perform well?
How to avoid conflicts in work teams?
What are some tips and techniques for strategic workforce planning?
How can we support you to obtain more information about strategic workforce planning?
1. What is strategic workforce planning?
As the beginnings are important, first of all, it is good to make it clear what exactly strategic workforce planning is. It is a tool that helps us organize, optimize and simplify the tasks or resources necessary to achieve a work goal.
The idea is to help you plan and manage all the projects that are necessary for the success of your goal. And not only that, it should help to systematize all the information through these processes. Said in a much more synthetic way: a strategic workforce plan is the main strategy that allows you to achieve the desired results.

Analyze the various project methodologies, choose the most appropriate frameworks for your project, your work team, and your objectives, and found a project management tool that suits your needs. Throughout the entire project life cycle, you will need to work closely with your team members to function as a cohesive unit.
The manager must be a good leader in the company. Among the most important skills, they must have are to promote teamwork, collaboration, and discarding competition among members; enhancing the autonomy of the individual and their responsibility for the assigned work; conveying the common goal, along with many other characteristics.
2. How to create an adequate work team for your project?
One of the most important parts of a project is that of the group of collaborators that make it up. Hence, one of the key tasks of the Project Manager is knowing how to organize a work team that is competent and efficient, both for its assigned activity and for the overall project.
The moment in which a project manager has to identify the interested parties, one of the most difficult and most decisive tasks is to put them before him. You must define the characteristics you need from the profiles that make up your work team.
In addition, you should know how to make your collaborators respect the deadlines and delivery dates so that everyone can do their work without waiting for others to finish their part. To avoid collapse, you must compensate for the effort of your collaborators. In short, a series of basic qualities for a good working environment.
The leader must have a multidisciplinary team. Every project has many different tasks. Thus, in work teams, there must be different profiles for different tasks. In addition, each person should have well-defined roles. Each member must know very well where their responsibilities begin and end.
3. How to make your teamwork harmonious?
Just because you've selected the right people with the right skills to get the job done doesn't mean they'll collaborate the way you want. Different work habits, communication styles, and short-term and long-term goals can throw the entire team (and the project) off course.
Clarifying the behavior you want your project team to practice and establishing the values ​​you want them to uphold from the start helps everyone begin with confidence. People have different work styles and personalities. It is important to understand how these differences can affect your dynamics and come to terms with them once the project has started.
When internal work teams use tools and work processes that make communication and collaboration more efficient, goals can be achieved faster and better quality work can be produced. Internal productivity increases with smoother collaboration.
Only a few companies today try to do everything in-house: it is impossible to be good at everything all the time. They must have outside ideas in mind and different opinions to raise. The same goes for your project team. When teams work together, they can accomplish amazing things.
4. What is the correct way to manage meetings?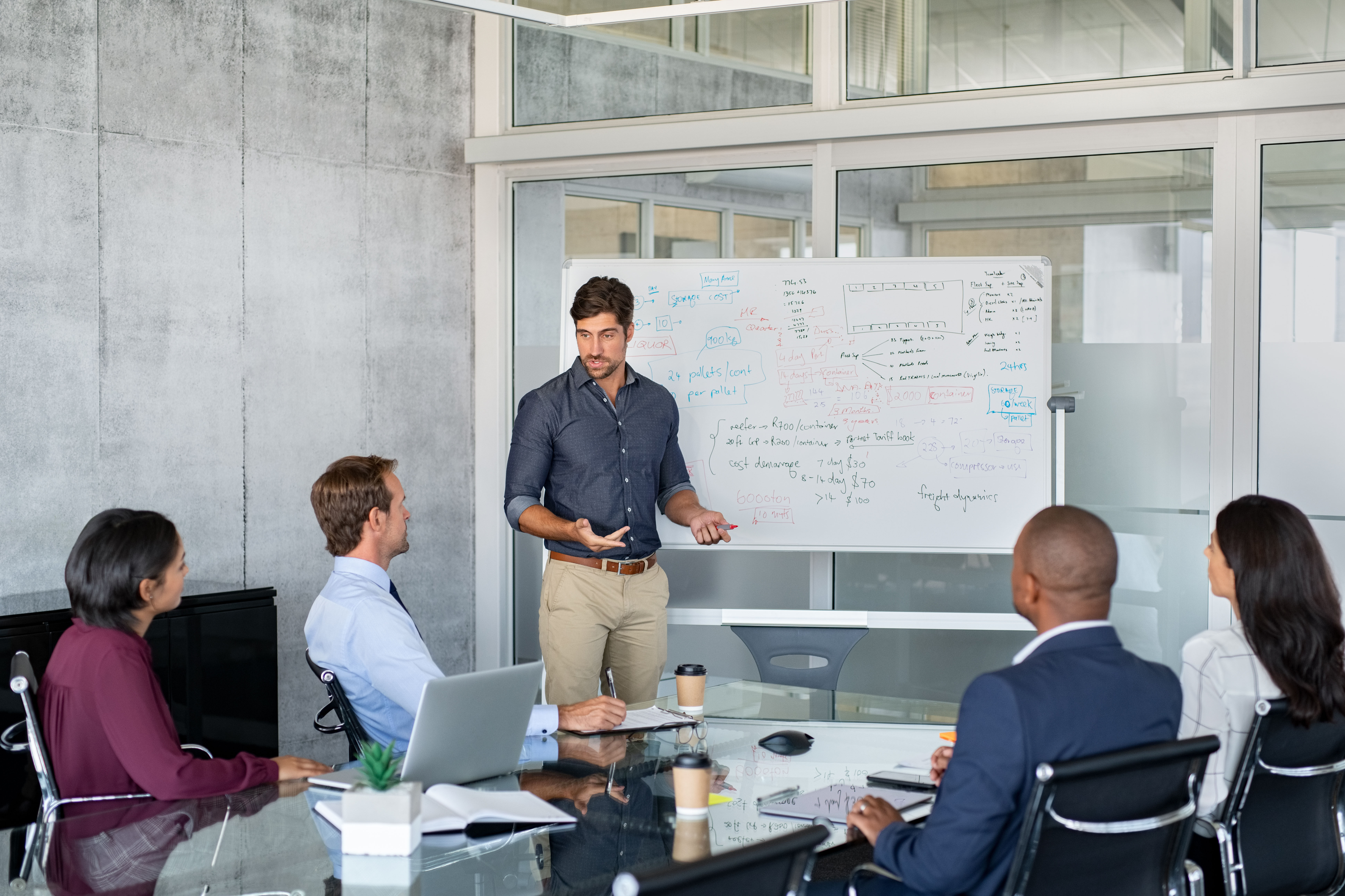 Before the project formally begins, hold a kickoff meeting to get everyone on the same page. This is a critical first step in establishing the style of teamwork that follows. It is usually the only opportunity to share the project goals and overall strategic workforce planning with all stakeholders.
Successful meetings require preparation. Here are some steps to make your meetings a success:
Set the focus and deliverables: Set a common goal for everyone. Establish what must be done and by when.
Identify the team and establish functions: Create a list detailing who is responsible for each task and include contact information to facilitate communication.
Develop initial project plan: Present your initial project plan, but keep in mind that details may change during discussions with your team at the start. You have to know how you want to approach the project, but be flexible.
Describe metrics in order to succeed: What will make your company successful? Set expectations and goals early.
Identify potential risks and obstacles: prepare the team for possible obstacles and establish a process to quickly manage them if they arise.
Establish logistics for team communication: what is the preferred method of communication? Which one is the best method to afford status updates? Establish a consistent process (daily, weekly meetings) and determine the technology to be used.
Choose work process or project management methodology: Establish which methodologies and frameworks the project team will follow to align teamwork styles and expectations.
Decide what tools you will use: Make sure everyone has the tools they need to carry out their tasks.

5. What is the correct way to encourage your workers to perform well?
Now that the project is underway, it's your job to keep everyone motivated, on track, and working as a team. Successful people are those with successful behaviors. The productivity habits are the magic ingredients for the success of your project. If your team has the correct behavior, they will complete everything on time and cooperate without any friction.
Even if your team doesn't have the right teamwork habits right now, you can help them develop new, more productive behaviors. And steer the course sensibly: after all, we humans are pretty resistant to change.
Be the right leader: Define the habit you want the team to practice and then do it yourself. Be the role model. Your project team will follow you when they see the benefits of this new habit in your daily work.
Mix new and old habits: It's always easier to transition to new habits when you combine them with existing old behaviors. It makes the new habit seem more familiar and ensures a more natural transition. Identify a behavior your project team has already mastered and help them take it to the next level.
6. How to avoid conflicts in work teams?
Conflicts are inevitable when collaborating on group projects. They are emotional, sometimes dramatic, and often exhausting. But when conflicts are resolved, they lead to stronger relationships within the team, a better understanding of how to collaborate, and growth opportunities.
Tips for resolving conflicts quickly include:
Keep calm: It is not easy to keep your emotions out of a conflict, but approaching a conflict rationally will help.
Pay attention to verbal and non-verbal communication: People say that more than half of perceived communication is done non-verbally through body language. Indeed, it is very important to receive the message that your workers want to send
Be neutral in every sense: The intonation of your voice can be just as important as the words you say. Staying neutral can help you get your point across without hurting sensitivities.
Avoid threats and accusations: Usually, accusations and threats steer situations in the opposite direction from the one you want. Instead of escalating the conflict, take a breath and listen to what the other person has to say. Understanding their side will help you see things from their perspective.
7. What are some tips and techniques for strategic workforce planning?
It can be easy to lose sight of teamwork collaboration best practices when deadlines loom. But, implementing them throughout the project will help optimize team performance. Meetings, for example, can be a valuable time for collaboration, but if they're unnecessarily long, they can destroy collaboration instead. When you schedule a meeting, remember these tips:
Skip status-update meetings and use a software tool.
Invite the necessary workers. Don't waste other people's time.
Create a goal-oriented program and stick to it.
End the meeting by clarifying the next steps to be taken by each.
Brainstorming meetings can help spark collaborative thinking and great new ideas when working as a team. But when the session goes wrong, it can discourage team members from contributing.
Do not forget to generate a cooperative environment. Set up an open area away from personal workspaces where members can meet and work together throughout the project lifecycle.
8. How can we support you to obtain more information about strategic workforce planning?
As you have seen, without a doubt, collaboration is important, not only for the success of your projects but for the continuous growth of your organization. It is a fundamental ingredient for daily project work, but more importantly, it is the most important factor that defines the culture of your organization and attracts the best employees to your company.
Our services can be of great help to you if you do not know the correct use of strategies to have a stable and promising work team. In addition to that, we offer all kinds of information about immigration in the Middle East, long-distance hiring, or payroll outsourcing.
Our focus is on providing the best quality of service and being an ally in your search for the perfect organization. The company that will work in all sectors and aspects. Counting on us is synonymous with security when it comes to managing companies.
Are you interested in what you have read, have received very helpful information, and want to get in touch with us? We will always be at your service and available. Contact us at the number +971 433 1 688, or in case you feel more comfortable, you can write us at [email protected].
You can send your CV to thetalentpoint.com. Or if you prefer, you can also send an email with your resume to [email protected]. We will read it with great pleasure!