Navigating the COVID-19 pandemic and its aftermath has been one of the greatest challenges of our time. To keep operations running while minimizing risk to employees at the moment of going back to work, most companies have adopted new ways of working that have left their offices, stores, and others, completely empty.
In this article, we will explain how management teams have primary responsibility for leading their companies through this difficult time. It is up to them to determine how and when to begin the daunting task of returning to the workplace once governments restrictions are fully lifted.
How can we put safety first?
Who do we bring back to the office, and when?
What do employees need to face this change?
What is the role of leaders?
How to take care of the health of employees in an office?
Should workers still prevent themselves?
Are workers afraid to return to face-to-face work?
How to support your collaborators during the return to the office?
How can we help you obtain more information about going back to work?
1. How can we put safety first?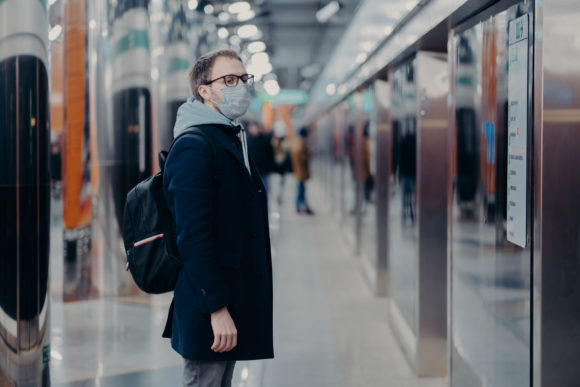 Workplace health and safety should be a top priority for management as they consider how to get operations back to as close to normal as possible. This is, indeed, an honest, ethical and legal worry for all businesses. And from a company standpoint, safeguarding employee well-being is paramount because no plan to resume normal operations is successful without them.

Employees count on their companies to help them get back to work safely. Management teams must understand and ensure compliance with federal, state, and local regulations as restrictions are lifted. Since these rules vary by location and likely will not be lifted at the same time, executives must plan for scenarios based on where essential activities take place.
Once it is possible to reopen offices, factories, and distribution centers, management teams will face the challenge of maintaining insurance. New protocols for deep cleaning and sanitizing may be necessary. It could also mean changes to the layout of the workspace, such as moving workstations further apart.
Companies could also consider establishing rules for the use of personal protective equipment. Screening employees and visitors to ensure they do not have a fever before entering the workplace. Also, establishing rules that determine when employees can return back to work after recovering from an infection.
2. Who do we bring back to the office, and when?
Returning to the workplace could mean reinstating furloughed employees, forcing away work from home, or returning to full productivity regardless of where work is taking place. For many companies, this probably means a combination of all three. All this is not an easy process to carry out, but it is not impossible either.
Management teams face the challenge of determining exactly who are the employees with critical functions. Some roles, such as sales, which have historically been considered entirely face-to-face, may need to evolve due to health regulations and consumer preferences. Other roles undoubtedly rely on workplace tools and for that reason, they are very important.
An analysis of which roles transitioned smoothly to telecommuting and which roles did not can help inform decisions about when you should ask subgroups of employees to return to the workplace. It makes sense to allow people with little drop in productivity to continue working remotely for a period of time.
3. What do employees need to face this change?
Even the best-conceived plan runs into trouble. Management teams must lead with empathy and demonstrate an understanding that while all employees have been through this crisis, not all have experienced it the same way. Many workers may have circumstances that increase their possibility of grave COVID-19 infection and may be hesitant to return to work.
Similarly, it is essential to recognize that workforces will need time to adjust to new post-pandemic ways of working. Employees returning from extended furloughs or telecommuting may find that the physical layout of their workplace has changed and their work schedule has been altered.

Re-acclimatizing an on-site workforce will present a huge change management challenge for executives. They will need a communication strategy that can help both employees returning to the workplace and those continuing to work remotely accept a common vision of what is to come.
Providing employees with the opportunity to communicate their challenges and concerns can help management teams identify potential issues with their return-to-work plans. By enabling real, two-way communication, leaders can turn this post-COVID-19 crisis into an opportunity to reinforce corporate culture.
4. What is the role of leaders?
By the time a company is ready to start planning for a return to the workplace, its risk management team (led by top executives and supported by key personnel) has likely already been meeting and discussing these issues for some time. It is not easy to make decisions of this style since each person thinks in a completely different way.
Boards need to ensure they are getting the information to understand the progress and execution of management's return-to-work strategy. How and when companies bring employees back could have lasting implications for corporate culture. By understanding the risks, boards can play a role in overseeing management's plans to return to the workplace.
Many HR leaders listen to their employees and thus know that there are different feelings about returning to the office. These leaders face many challenges, the biggest being lack of support from their superiors. As mentioned, the hardest part is telling your employees that they will need to leave telecommuting.
Human Resources leaders must validate their feelings and find out what their employees think. Hear their perspectives using a variety of channels, including employee climate surveys, conversations with leaders, and town hall meetings. Anything that supports understanding between members of the company is very helpful.
5. How to take care of the health of employees in an office?
When we talk about the well-being of employees, we have to take into account their mental and physical health. In these times of pandemic, we are all aware of the physiological risks we have when leaving home, but not so much of the psychological damage. It has been times of total or partial lockdown for everyone, even for some it has meant unemployment overnight.
Personal economic damages are enough problems in the head of a person. As a company, you must intervene to prevent further mental wear and tear on them while they are in your office. It is a period full of uncertainty that keeps workers worried. These emotions are because nothing guarantees their job, but it is also due to fear of getting sick where they work.
Regarding physical health, employers must offer safe offices for their employees. You have two options: bear the costs to ensure a hygienic workplace or get an office in an all-inclusive business center to take care of this. Some technologies keep their workspaces sanitized so that the employees feel safe going back to work without distractions.
6. Should workers still prevent themselves?
Employees cannot be forced to get vaccinated, but there is still much a company can do to maintain a safe workplace. As employers, three measures must be taken simultaneously: prevention, testing, and traceability.
Prevention. This will always be the most effective way to fight any virus or disease. Both in offices and at home, it is necessary to continue with the prevention measures that we already know and recite by heart. Hand washing, use of face masks, and respecting a healthy distance.
Testing. The best recommendation is to continue applying virus detection tests on a constant basis. However, there is no single way to proceed on this issue. Each country has its own vaccination strategy and its possibilities of accessing tests and vaccines. Study the greatest choice for you and your workers.
Traceability. This is essential to make decisions within companies. If the two previous points fail, it is essential to follow the route of contagion. Identifying the people with whom a person with Covid-19 has had contact to prevent further spread within the workspace.
7. Are workers afraid to return to face-to-face work?
It has been more than a year since COVID-19 forced organizations to adopt remote work. And now, with greater access to vaccines, the question remains when (and if) companies should return to the offices.
Perhaps the most obvious obstacle right now to getting employees back in the office is ensuring the workplace is protected from the health risks of COVID-19. This requires more than just the application of health and safety protocols, since employers must also check if employees feel safe with these measures.
It is clear that safe reopening is about more than the supply of masks and hand sanitizer. It is about showing empathy, collaborating to create safety measures that work for everyone, and personalizing the return-to-work experience.
Regardless of the reason, though, everyone who dreads going back to the office agrees on one thing: They do not want their workplace to go back to what it was before the pandemic. And, if organizations are not prepared to act on it, they could risk losing their best talent altogether.
8. How to support your collaborators during the return to the office?
Regardless of how your return to the office is, the key is always to support and interact with your collaborators along the way. Making sure people feel like they have options that suit their needs is key to retaining top talent. People will always seek their greatest comfort, and some could miss the calm that remote work sometimes creates.
Ask yourself:
Do your employees feel supported by their colleagues when they go back to work?
Do employees feel they have the tools to go back to work safely?
Does the workplace of the employees make them feel supported?
Do employees trust the decisions of their leaders?
Do the collaborators feel that they have a say in how they work?
Conducting a climate survey to learn from employees about their thoughts on returning to work will ensure a successful and hopefully fear-free transition. Fairness should always come first. During this transition, concerns about favoritism and people being excluded or treated unfairly are very likely to arise.
Ask your employees, at least quarterly, about their experience, so the organization can respond quickly and support their evolving needs. To get a clear and nuanced view, employee pulse surveys are very useful, because they get to the heart of the problem and invite honest feedback.
9. How can we help you obtain more information about going back to work?
There are those who have no problem returning to work in person, others want to wait until the vast majority of people are vaccinated. However, a safe return to the office depends on other actions that can be taken immediately. Those mentioned throughout this article are of crucial importance for all this change to be effective.
Here, at PEO Middle East, we offer quality services for the management of your company and your workers. Especially for these times of people going back to work. In turn, we support remote areas and offer relocation services.
People will have to re-adjust to a very high arousal environment. Where all the sounds can be heard in the sometimes-chaotic environment while in remote work there is only the stillness and tranquility that is the opposite of what an office can offer.
Your company will return to work and you are interested in learning more about how to start over? Contact us at the phone number +971 433 1 688 or write us via e-mail at [email protected].
Submit your resume to thetalentpoint.com or write to us at [email protected]. With us, you could find your perfect job!