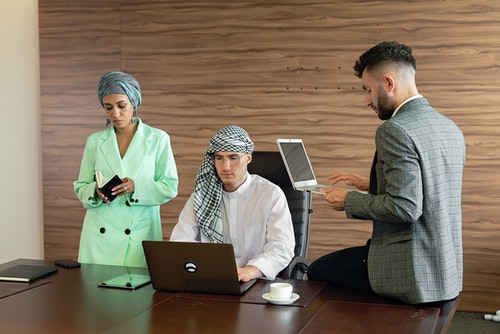 Israel – HR management
A well-functioning HR department plays a key role in reinforcing, developing, and changing the culture of a company. In addition, activities such as training and development, pay, and recruitment, and onboarding are essential elements of the core of the company. On the other hand, the HR department dictates good communication in a business.
Israel Compensation and Benefits
In PEO Middle East we provide your business with the best tools and services to ensure a smooth HR department while complying with the different labor and employment laws of the country.
Table of contents
Working Hours in Israel
Sick Leaves in the country
Termination and Severance in Israel
Employment Contracts in Israel
Benefits of choosing our HR department benefits in Israel
Why PEO Middle East is the best HR management provider in Israel?
Working Hours in Israel
Certainly, the traditional workweek in the country is from Sunday through Thursday; on the other hand, non-Jewish individuals may choose to close on Friday, Saturday, or Sunday as their weekly holiday. Similarly, Jewish individuals do not work on Saturdays unless their employer chooses to; however, they must acquire a special permit.
Likewise, the workweek must not exceed 42 hours, divided into 5 or 6 days of work. However, each workday must not exceed 9 work hours. In addition, workers have the right to overtime pay and the calculation is on a daily basis. That is to say, for the first 2 additional hours, the remuneration is 125% of the basic salary; and for additional hours and for work during the weekly resting day, the compensation is equal to 150% of the regular salary.
Similarly, some companies pay monthly as compensation for overtime pay.
Sick Leaves in the country
Workers in the country are entitled to receive sick leave permits at a rate of 1 and a half-day for every month of continuous work with the right to accumulate up to 3 months. However, workers are not entitled to payments on the first day of sickness. On the other hand, the workers have the right to receive 50% of the salary for the second and third day.
However, you must have in mind that some companies pay full salary for their workers from the first day. That is to say, all workers employed for more than 1 year with the same company have the right to an annual payment for convalescence. On the other hand, the minimum period is between 5 and 10 days every year, and the current rate is around ILS 330 (USD 90).
Therefore, this payment is included in the worker's salary, subject to the worker's written consent.
Termination and Severance in Israel
Employment contracts can be terminated by dismissal, retirement, death, resignation, or the expiration of a limited period of employment. On the other hand, the act of dismissal entitles the worker to receive severance pay. Certainly, the employees do not have the right to receive severance is if the employer has a valid cause.
Similarly, the business or the worker must provide written notice before termination. Therefore, the minimum mandatory period of notice for resignation or for dismissal of workers paid on a monthly basis is:
1 day on the first 6 months of employment.
6 days and an additional 2 and a half days for each month worked from the 7th month for employees who worked continuously 6 months to 1 year.
30 days after successfully completing the first year of employment.
The worker is entitled to terminate the employment without a notice period and provide a severance payment in place if it is required unless it is specifically indicated otherwise.
Employment Contracts in Israel
Similarly, the labor and employment law of Israel does not mandatorily require a written employment contract; however, in PEO Middle East we strongly advise our partners to put one in place. In addition, you must write the contract in the local language spelling the different terms of termination requirements, benefits, and compensation.
On the other hand, an offer letter and an employment contract must state compensation and salary in Israeli Shekel only instead of a foreign currency.
Similarly, we include in all our employment contract clauses such as confidentiality, assignment of intellectual property, and non-competition. However, you must have in mind that limitations about the future employment of a worker are valid only if these restrictions are for protecting the company's valid interests such as trade secrets.
Likewise, it is likely that most of the restrictive terms will not be enforceable. However, in PEO Middle East we strongly advise our business partners to include these clauses in the employment agreement. Similarly, all our workers hired through our innovative services are contracted according to the best business practices in Israel.
Benefits of choosing our HR department benefits in Israel
Seamless hiring: we assist you with everything in your hiring process from background screenings to the onboarding process to ensure efficiency.
Benefits administration: in PEO Middle East we will ensure the best management of your benefits for your workers to eliminate complaints.
HR assistance: we provide valuable guidance and assistance regarding how to improve your processes by developing HR strategies.
Payroll outsourcing: we will handle and take care of all your payroll activities to ensure your workforce receives their due payments on time.
Recruitment processes: when you work with us you ensure assistance on screening, sourcing talent, and interviewing for streamlined recruitment.
Additional services: you can choose from our suite of additional services aimed to assist your business such as remote recruitment, payroll outsourcing, and more.
Why PEO Middle East is the best HR management provider in Israel?
We understand that the HR department is perhaps the most important part of a business. For instance, activities such as worker well-being, payroll, compliance and more, are important to ensure a well-functioning company. However, sourcing the best employees is also a good task to ensure your business stays productive and efficient.
In PEO Middle East we provide full compliance with the employment and labor laws of Israel so you can focus on running your company.
However, if you want us to start taking care of your HR department or if you have additional inquiries; you can email us via [email protected]. Or you can give us a call at +971 433 1 688.